FURUNO AUTOMATIC IDENTIFICATION SYSTEM FA150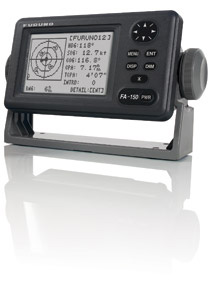 The FA150 is a shipborne Universal AIS (Automatic Identification System) Transponder capable of exchanging navigation and ship data between own ship and other ships or coastal stations. The FA150 consists of a transponder unit and a compact display unit with 4.5" Silver Bright Display. The compact FA150 display is designed to accomodate a simple and space-saving installation with a user-friendly ergonomic design.
The transponder unit contains a VHF transmitter, two TDMA receivers on parallel VHF channels, a DSC channel 70 receiver, interface processor and internal GPS receiver. The GPS receiver is a 12-channel all-in-view receiver and has Differential capabilities (DGPS). The GPS receiver provides UTC reference and also provides position, COG and SOG in the event that a connected external GPS receiver fails.
The FA150 provides multiple interfaces for Radar, ECDIS and PC. The available Combo GPS/VHF antenna affords flexible, easy installation.
The FA150 provides the following data:
MMSI (Maritime Mobile Service Identity)
IMO Number (where available)
Call sign & vessel name
Length and beam
Type of ship
Location of position-fixing antenna on ship
Ship's position with accuracy indication and integrity status
UTC
COG, SOG and Heading
ROT (Rate of Turn) where available
Ship's draught
Navigation status
Hazardous cargo (type)
Destination and ETA (at captain's discretion)
Short safety-related messages and free messages.
SAAB R4 AIS Transponder System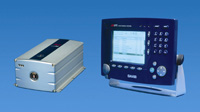 R4 AIS Transponder System is our 4th generation design. The core of the transponder is a software defined radio, combined with a high quality built-in GPS receiver and processor. The IMO compliant Saab R4 carries type approvals from a number of countries, including EU, US Coast Guard, Russia, India, Brazil and China. It can be installed as stand-alone AIS or in combination with our R4 DGPS sensor.
The R4 AIS system comes in several variants; as a full Class A, as a Secure system for Coast Guard or Navy solution or as an Inland AIS transponder system. Saab supplied quantities of Inland AIS transponders for use on the Danube River in Austria.
JHS-182 Automatic Identification System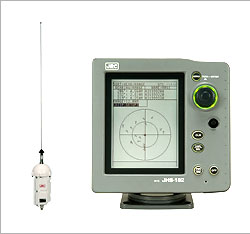 The JHS-182 AIS is the world's most compact Class "A" Universal AIS, designed for space saving installation. The system consists of three (3) components: AIS Transponder, Connection Box and AIS Controller. The JHS-182 also has capability for a second display. It requires only a single, standard coaxial cable to the transponder which houses both the GPS and VHF antennas. The built-in Pilot Plug is located in the rear of the Controller and an External Pilot Plug is available as an option if the installation requires it. Auxiliary Output ports provide expanded connection capabilities to ECDIS and Radar.
The system is capable of regularly broadcasting your own ship's unique information as well as receiving and displaying information broadcast from other ships in the VHF band, using new SOTDMA technology. The ship's information includes vessel name, cargo and navigational information such as ship position, COG and SOG is displayed on a large, 6.5" LCD screen. IMO, FCC and USCG Type Approved.
The single-unit structure combining the antenna with the transponder guarantees maximum power transmitted and received and easy installation.
Offers interfaces for Radar, ECDIS and other peripherals.
The function of displaying a fellow ship's identification is provided.
On-line maintenance support is available. (Remote Diagnostics System)
Vessel Name, MMSI or IMO
Copyright © 2008-2009 Rice Electronics, All Rights Reserved.